Antique Bedroom Furniture, Bedroom Sets & Vintage Décor
Timeless Traditional to Mid-Century Modern
Retro Modern Antiques offers the area's best selection of beautiful antique bedroom sets, home accents, and décor. We offer everything from traditional antique beds and luxurious period bedroom furniture to Mid-century Modern dressers and armoires, casual vintage and shabby chic style bedroom lamps, furnishings, and much more. Our selection is always changing so you never know what you'll find, but our fun eclectic mix allows you to create an amazing contemporary bedroom look that's ALL YOU!
New Furniture Arrivals at Retro Modern Antiques
Our beautiful furniture sells FAST. Follow Retro Modern Antiques on social media to see the fresh finds first – and get a fun behind the scenes peek at the shenanigans as they unfold!
Shop Quality Antique Bedroom Furniture
Quality never goes out of style! Shop Retro's uncurated selection of vintage and antique bedroom furniture for an on-trend look that's built to last. Whether your style is traditional, Shabby Chic, MCM, or anything in between, our eclectic mix adds unique appeal to your modern home.
Gorgeous Solid Wood Dressers & Bedroom Sets
There's just something about the artistry of traditional American furniture. Finely built and finished with exceptional craftmanship, these masterpieces add instant warmth to any home. At Retro Modern Antiques, we carry a broad range of vintage and antique bedroom furniture that includes everything from Classic and Traditional, Victorian, and French styles to Modern, Industrial, Commercial, and Mid-century.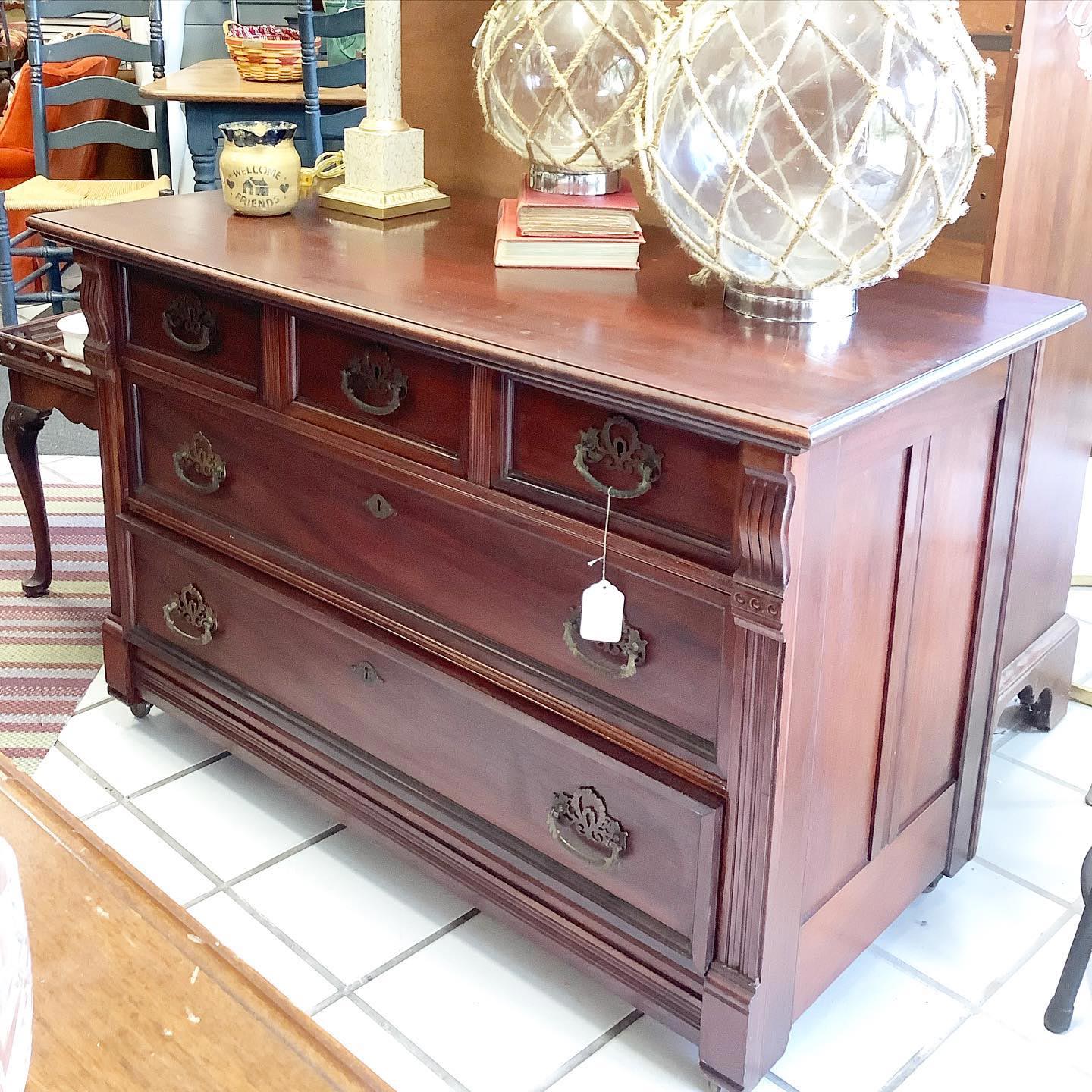 Antique Bedroom Furniture In Maple, Oak, Cherry & Mahogany
Choose from vintage maple and light wood tones, beautiful Art Deco oak and medium wood grains, a hand carved multi-toned wood bedroom set, dark cherry wood chests of drawers, black, white, and MCM colors. Create a statement with a unique antique twin, full double, queen, or king size bed or bedroom furniture piece that beautifully reflects your own style. This wonderful vintage mahogany dresser is a great example of the quality we see every day at Retro Modern Antiques!
Antiques, Art & Décor for the Bedroom
Looking for vintage art work in frames to hang on your bedroom walls? We have you covered. We keep an eye out for antique dressers and vintage chest of drawers from yesteryear, fine antique Victorian furniture, MCM bedroom sets, and so much more. If your heart is set on an antique French armoire, you'd like to wake to an authentic antique grandfather clock that calls gently from your living room, or want a one-of-a kind painting or artwork to add interest to your bedroom décor, stay tuned!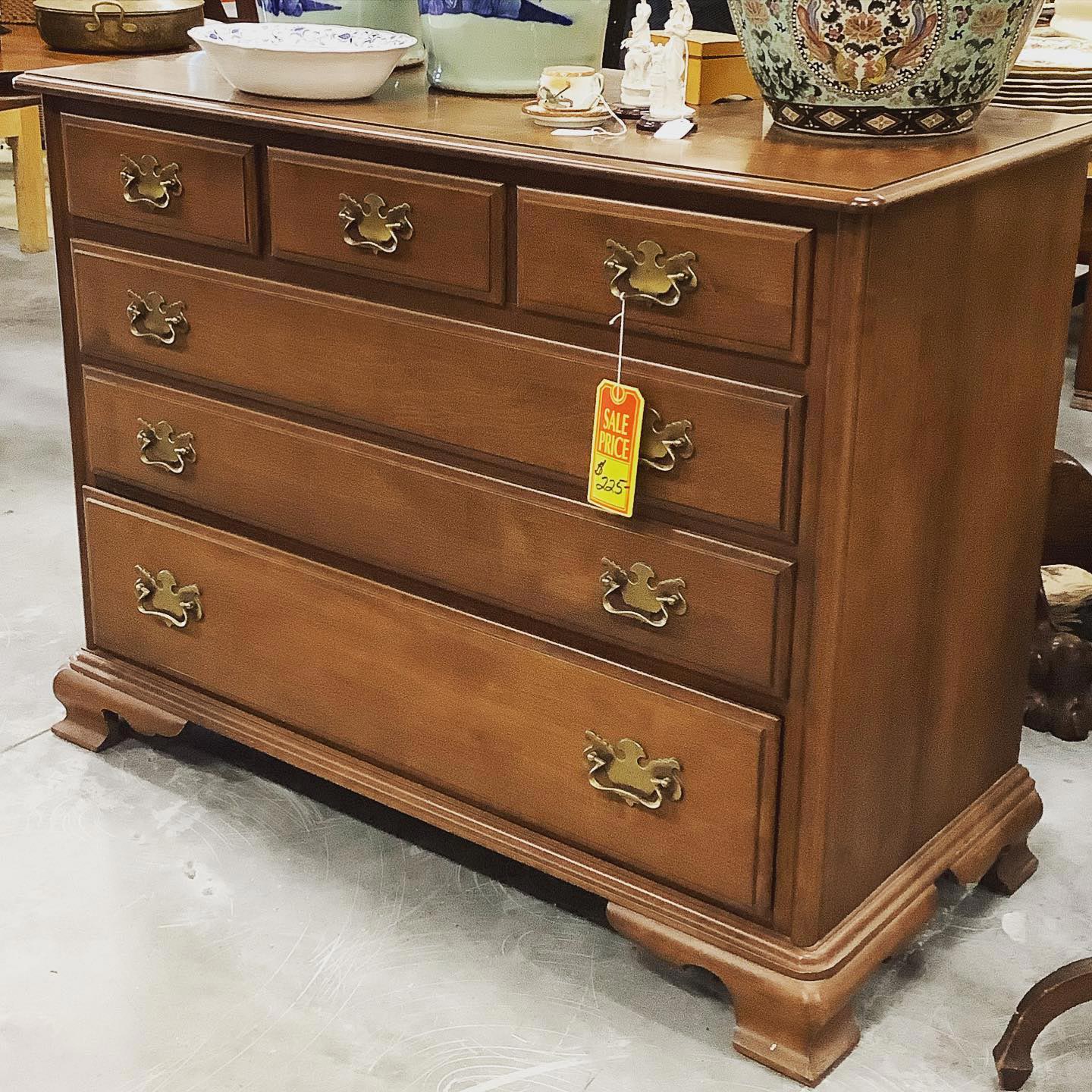 Club Retro Upcycled Bedroom Furniture
From adorable, beautifully carved antique dressers in trendy colors with FAB splashes of gold accents to creamy vintage headboards and wonderful matching bedroom sets with flo-ral and leaf details painted to perfection, the Club Retro line offers instant professional glam from the bedroom to the boudoir. This dreamy designer look is fairytale fabulous, Hudson Valley!
Contact Retro Modern Antiques – NY
Quality Antique Bedroom Furniture & Home Décor
Stop in and browse our unique collection of dressers, mirrors, beds, nightstands, cabinets, armoires, complete antique solid wood bedroom furniture sets, and much more! We seek out these unique treasures in vintage furniture and bring them to you to shop at your convenience. Visit our antique furniture showroom in Warwick, NY. It's fun to shop Hudson Valley's freshest eclectic collection of quality vintage furniture, art, and antique home décor!